How To Create A Modern Christmas Tablescape!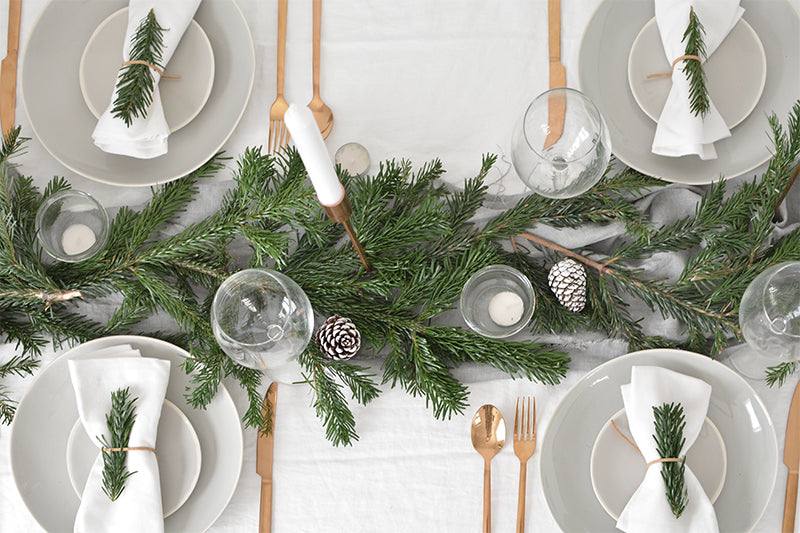 one of my favourite holiday traditions is setting the table at christmas, sitting down with family and friends is the most important part of any festive celebrations so i like it to be just right! i can't believe how quickly december has come around this year- do you feel the same?  i thought i'd play around with some simple styling for entertaining at home as it's a lot more fun than my christmas shopping list! it can be easy to get carried away when decorationg so i'm sharing some ideas to keep things nice and classic this year..
choose a theme.
i like to keep to a simple scandinavian winter theme with a neutral palette. i didn't want anything complicated as it's nice to be able to put together something quickly (especially as i'll be well into my third trimester when christmas arrives this year!) i wanted this table setting to be relaxed with a focus on natural textures, greenery and soft candlelight.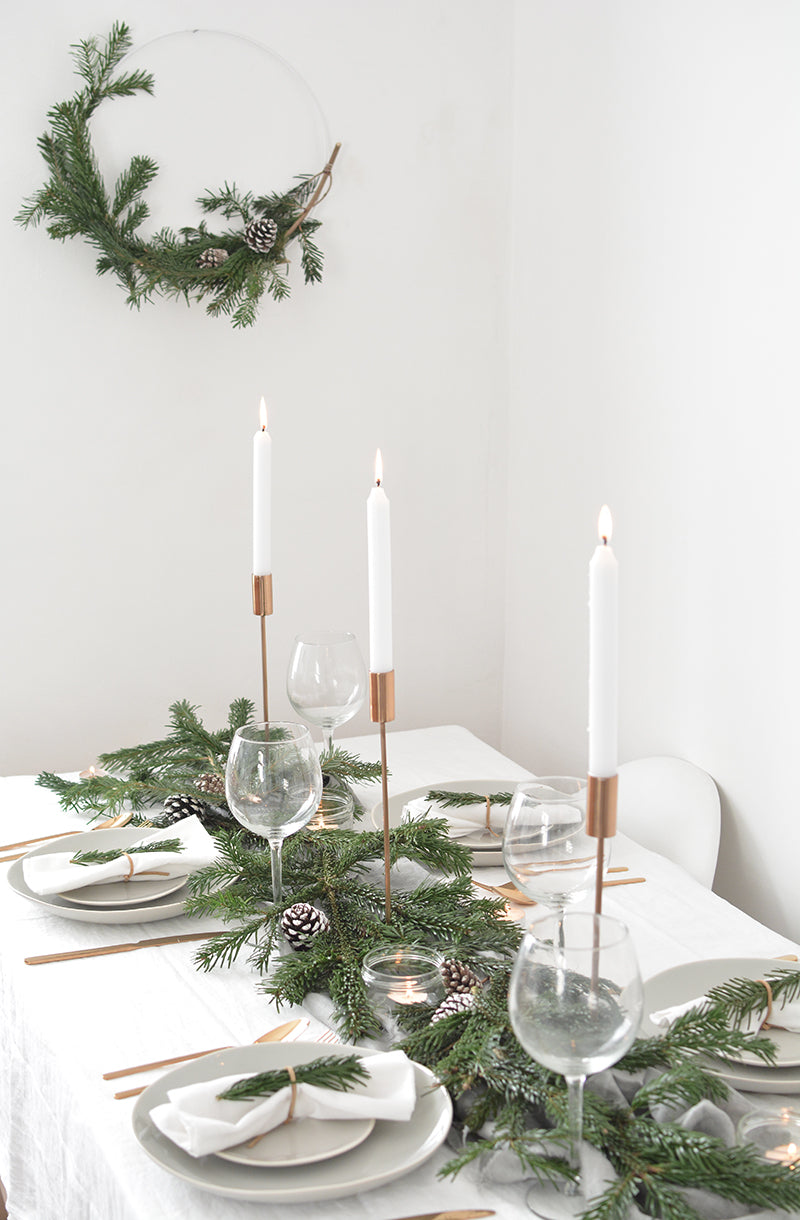 simple textures.
i decided to layer up my textures, starting with a simple
white linen tablecloth. for a runner i took a few meters of rough grey linen and torn off a long strip to weave throughout the middle of the table; it's a small detail but adds some depth to the setting.
i thought these beautiful pale grey
dinner plates
were the perfect antidote to all my existing whiter than white plates and a gentle contrast to the white tablecloth and greenery runner...  they also come in indigo and chartreuse but for me grey was always going to be the easy choice!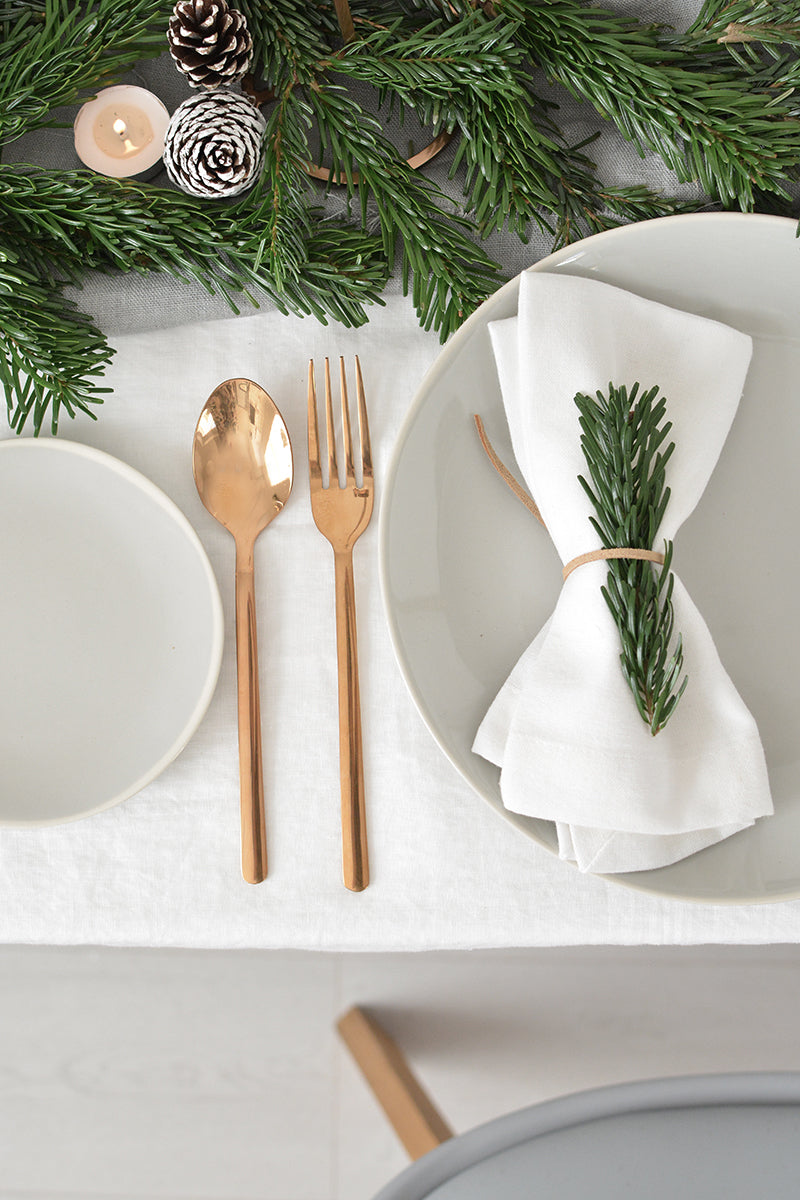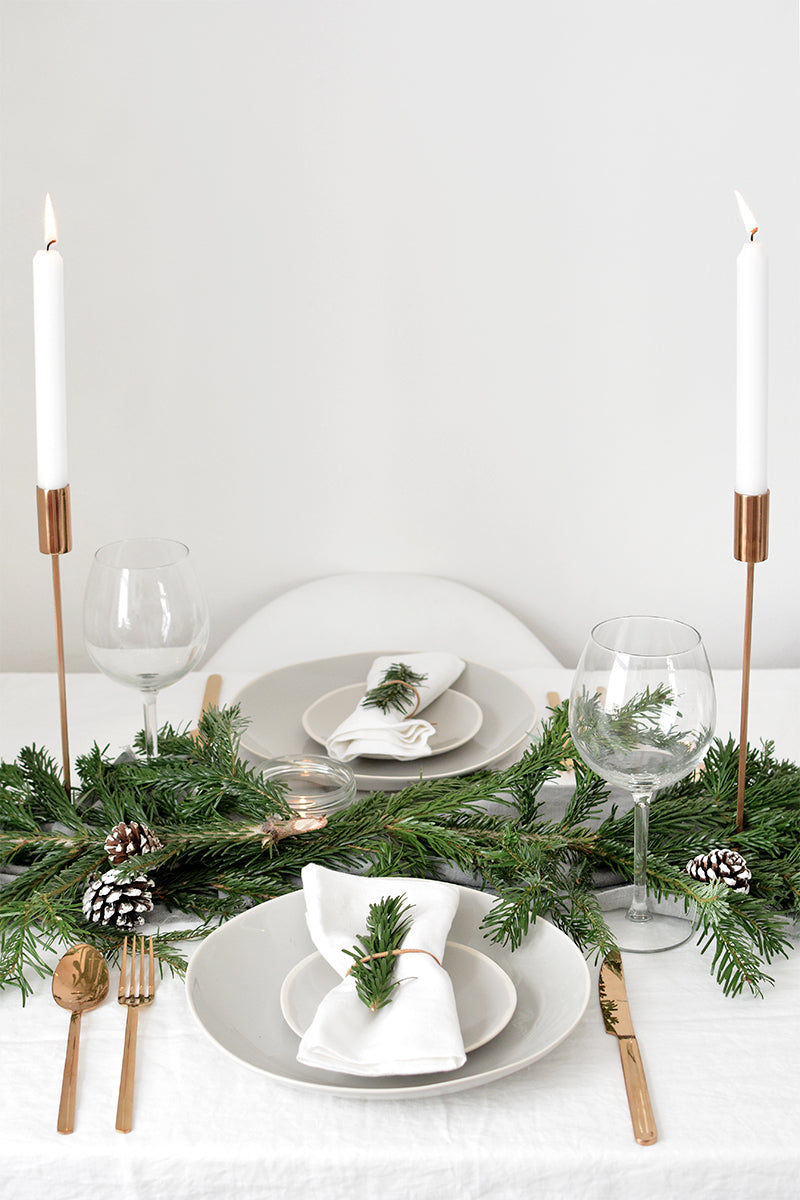 i love the artisan feel of this stoneware, it's irregular edges and organic feel compliment the natural element of the pine scattered across the linen runner. the edges have been hand wiped to show the transparent glaze which is such a lovely detail. they're not just a set for special occasions though, the smaller
side plates look great stacked or scattered on a table too (they're just the right size for a croissant or pastry with a cup of tea at my desk!)
natural accents.
the smell of pine is one of my favourites at this time of year so using it as my main source of greenery was a big no brainer! taking trimmings from the christmas tree is an easy way to add a more festive feel to any christmas table. i've even thrown in a few pine cones...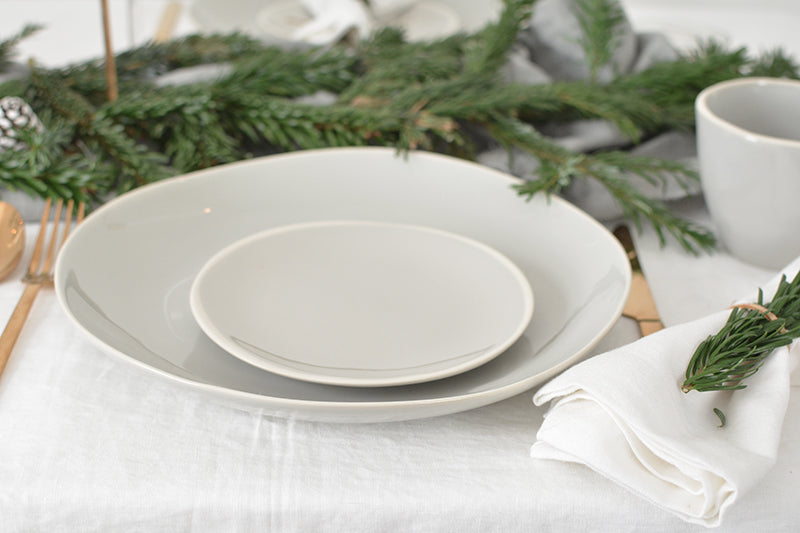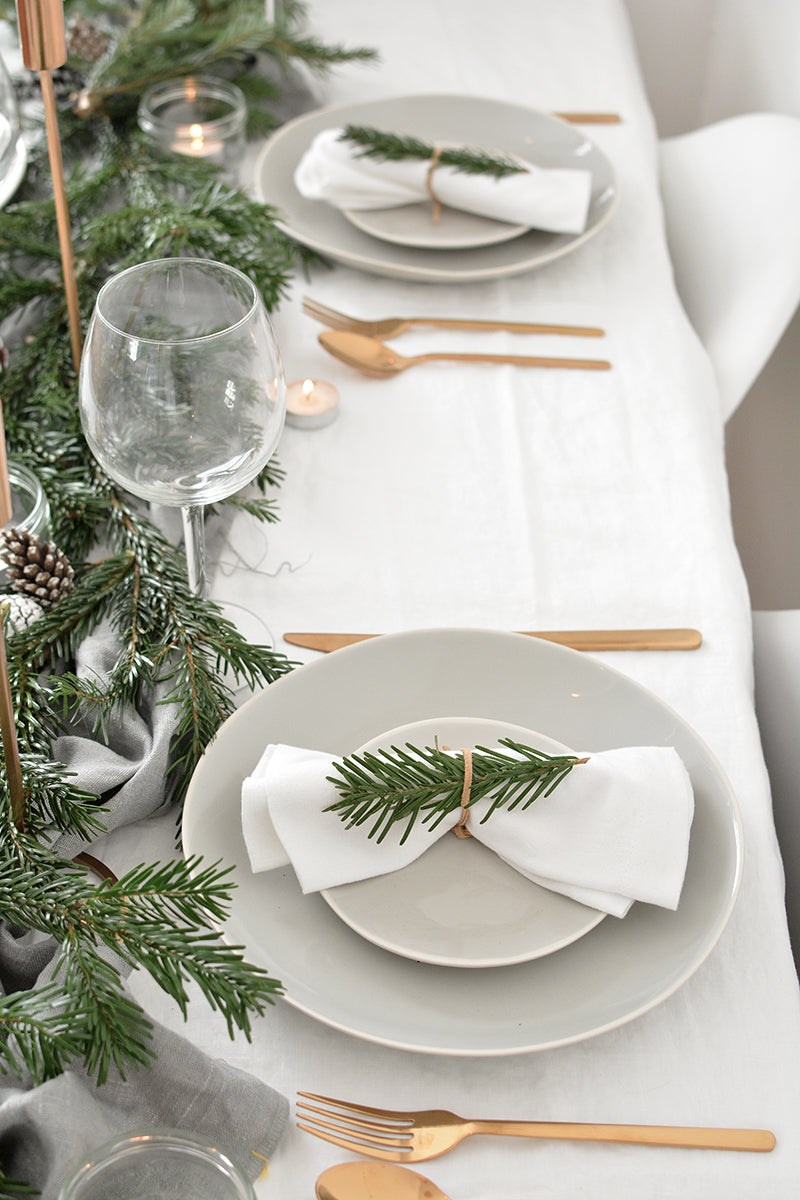 add height.
i don't the focus of a table setting to be in one place, i like the eye to travel around and an easy trick is to add height which is easily done with the addition of a few tall copper candlesticks. i think candlelight is essential to any gathering especially at this time of year with it's long dark nights, candles burning creates the ultimate cosy ambiance. i've used a combination of tall candlesticks and  low tea lights scattered along the table foliage so there's light at different levels. 
i also created a quick DIY pine wreath to hang on the wall behind the table, by using the same materials it's a quick way to bring everything together. you make your own minimal wreath by simply wrapping a branch of pine onto a dreamcatcher ring with some fine garden wire.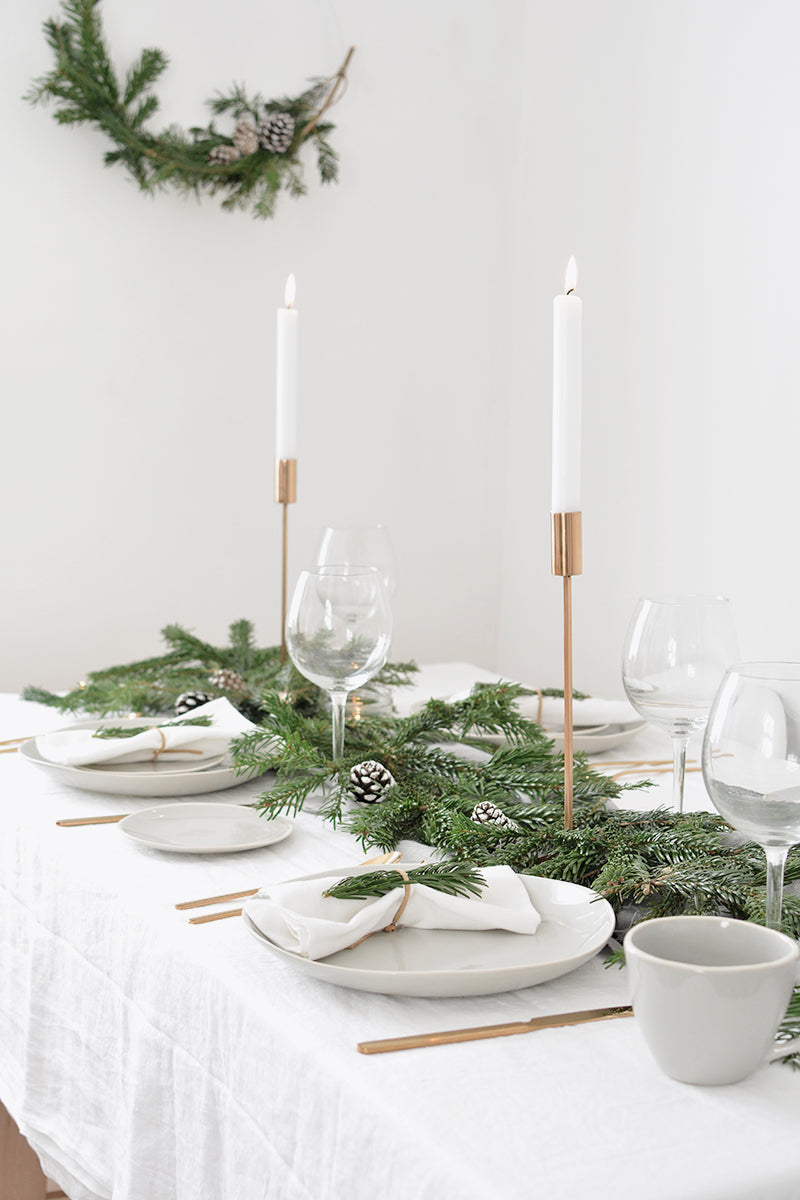 ick simple accessories.
to compliment EUNA new dinner plates i've used some rose gold/copper cutlery which are a little warmer and more celebratory than my usual stainless steel set! i think matching the metals on a table is an important detail so i've tried to keep the theme going by having my candlesticks a similar shade.
i've also used white linen napkins as they pop a little more against the grey plates... quickly tie some pine trimmings around them to dress them up. i've skipped name cards, i think christmas should be informal so i let people sit where they choose!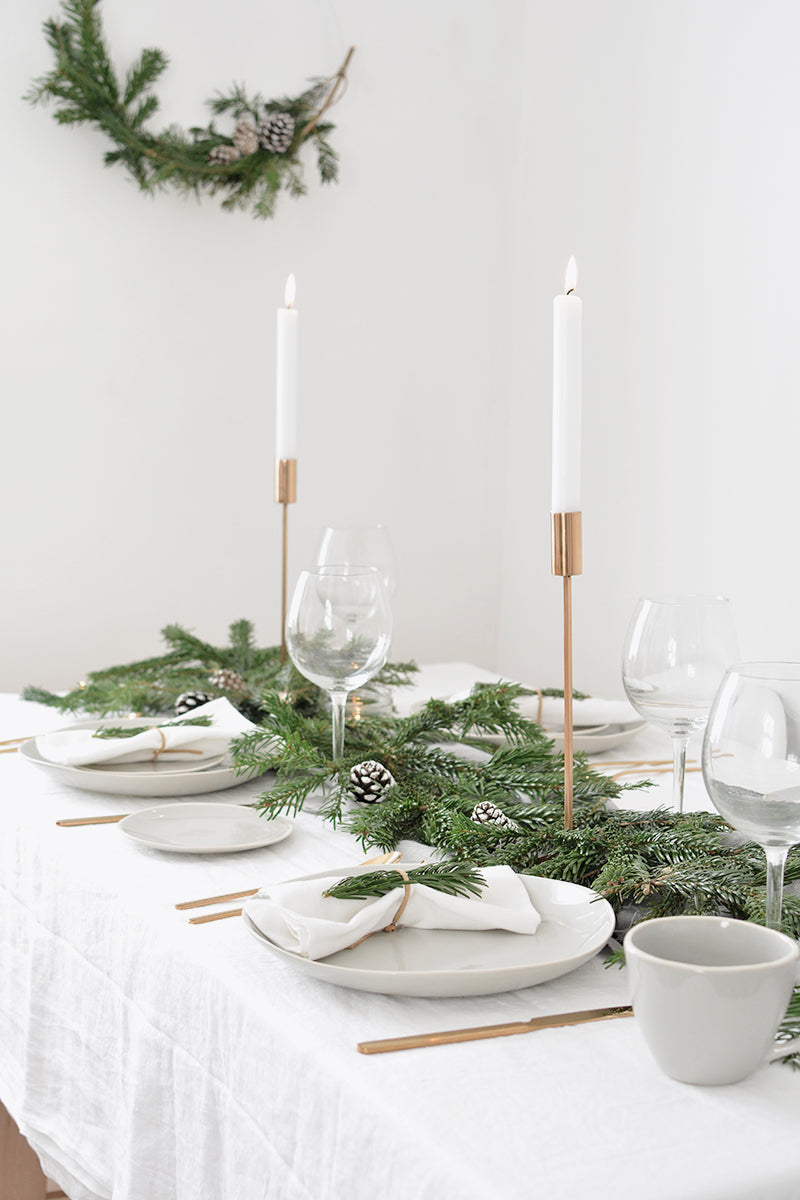 do you like this type of table setting? i hope this has given you a few ideas on how to style a modern scandi inspired table for christmas..
Leave a comment